WE PRODUCE AND SELL PREMIUM COLOR AND NATURAL MULCHES. WE ALSO CARRY COMPOST, PULVERIZED BLACK DIRT, RIVER ROCK AND WASHED SAND.
ALL OF OUR MULCH PRODUCTS ARE MADE WITH 100% NATURAL HARDWOODS - NO PALLETS, RAILROAD TIES OR CONSTRUCTION DEBRIS
Sylvester Custom Grinding provides you with Environmentally Friendly Color Enhanced Mulch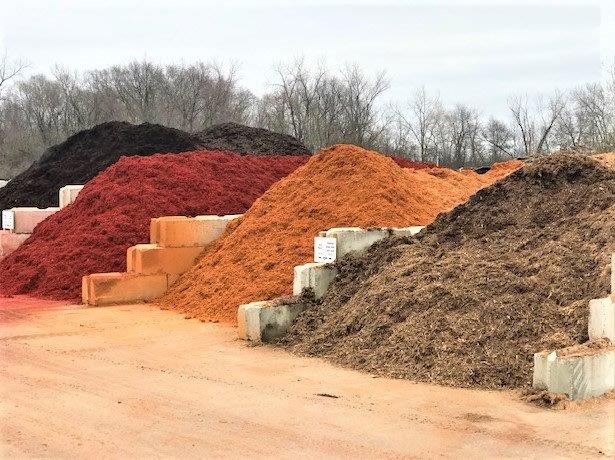 How safe is the colored mulch?
Recent independent laboratory studies looked at colored mulch very closely to determine its toxicity to the skin, eyes, lungs and internal organs. The results showed mulch colorants to be well-below EPA guidelines in terms of heavy metals and that they contain no detectable volatile organic compounds (VOCs). The studies placed mulch colorants into the lowest and safest level of toxicity possible — Category IV.
By contrast, table salt and baking soda have higher levels of toxicity. In other words, colored mulch poses no toxic risk to your pets, plants, or the environment.
It's easy to use and maintain.
Ideally, colored mulch should be applied when there is no rain in the forecast for at least 24 hours. It can be applied on bare soil or over existing mulch, and to a depth of 2 to 4 inches.
As with traditional mulch, you should periodically check colored mulch for compaction, and use a cultivator or rake to loosen it up. This helps prevent fungal growth and improves plant hydration by allowing air and water to pass through.
We use only Mulch Magic and Starburst - the highest quality colorants by Color Biotics, a BASF company.
Mulch Magic is used on our Dark Walnut Brown and Black colored mulches. It is designed to produce perfectly colored mulch every time. Its high-quality ingredients provide consistent coverage on mulch fiber. With coverage as intense as the color, mulch fibers are completely encapsulated in vibrant colors.
Starburst is used on our Gold and Red colored mulches. Starburst is the top of the line colorant offered in the industry. It is used on our Gold and Red mulches to provide unmatched vibrancy, superior adhesion, uniformity in color and pigment protection for maximum weather wearability.
All of our colored mulches are double ground and colored using a 3" screen in our state-of-the-art 2022 Vermeer Tub Grinder 5000 or our 2018 FP66 Rotochopper 775 hp grinders/colorizers.
FOR WHOLESALE PRICING PLEASE CALL
715-690-9960
Wholesale pricing is only available to Licensed Landscape Companies and Nursery Centers and requires a proof of sales tax exemption if you are sales tax exempt.
DEBRIS DUMPING
Dumping of yard waste, brush and wood debris is available at our Roberts, WI site, during regular business hours.  All pricing is based on the size of vehicle used to transport the debris.  Please see the chart below for debris dumping prices.
WE ARE NO LONGER ABLE TO ACCEPT ROCK AND CONCRETE LANDSCAPE TEAROUT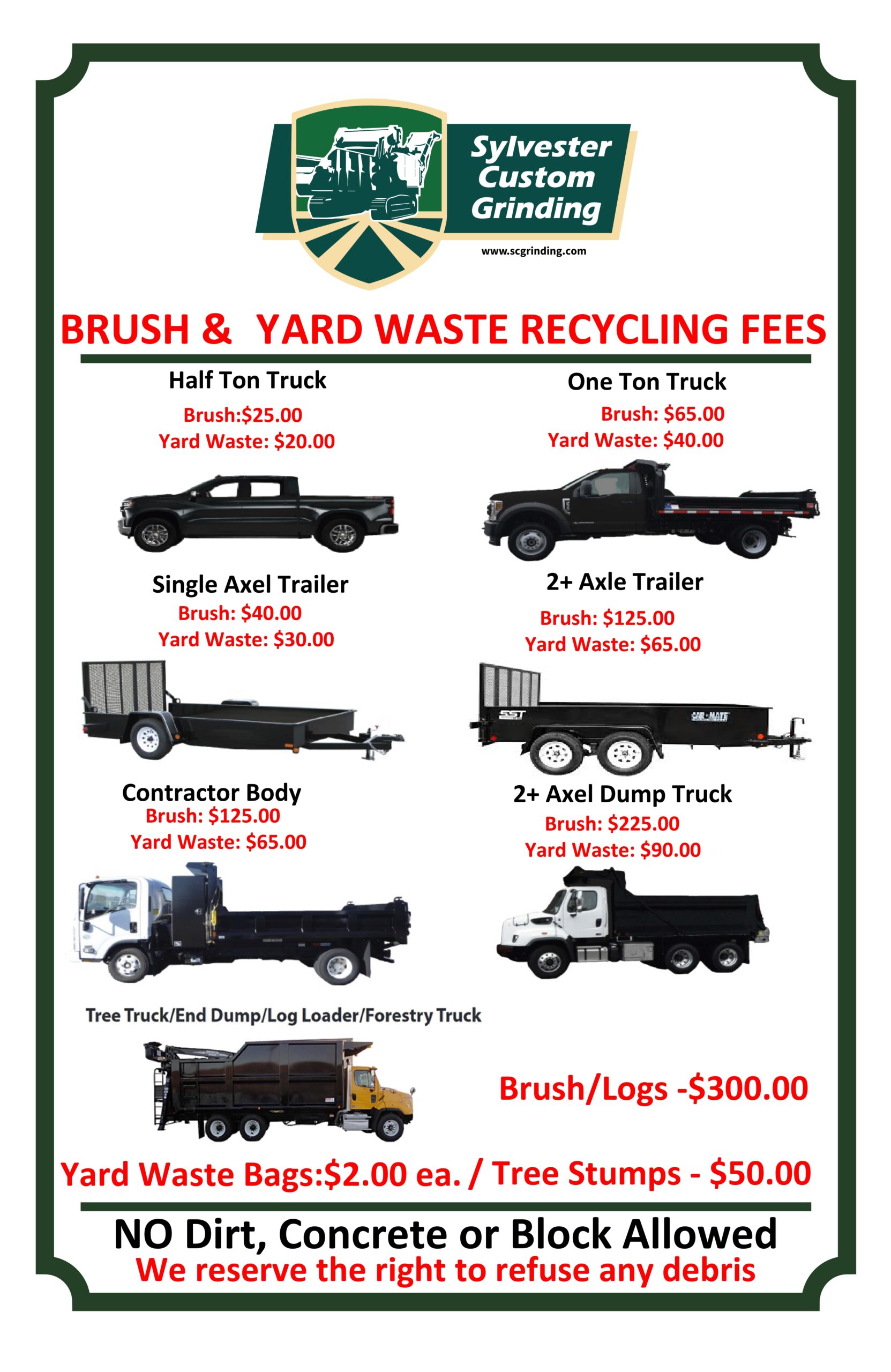 Retail Pricing Per Cubic Yard
Retail Customers: If you have questions, please go to our contact page and send us a message.
ALL RETAIL SALES AND SERVICES WILL BE CHARGED A 4% PROCESSING FEE IF PAID WITH A CREDIT OR DEBIT CARD.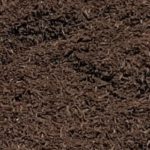 $40.00
Dark Brown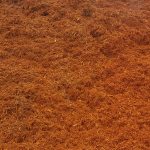 $40.00
Starburst Gold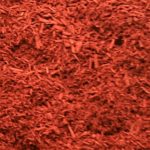 $40.00
Starburst Red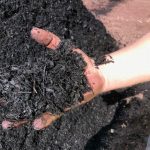 $40.00
New England
Fine Black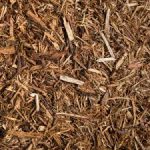 $25.00
Premium Double Grind Natural Mulch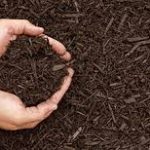 $20.00
Dark Extra Fine Natural Mulch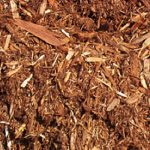 $79.00
Western Red Cedar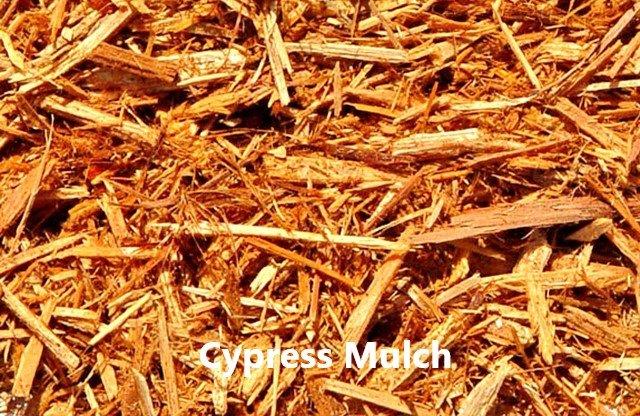 $110.00
Cypress Mulch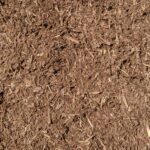 $45.00
All Wood Bark Mulch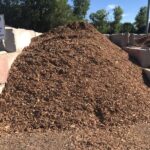 $20.00
Extra Fine Mulch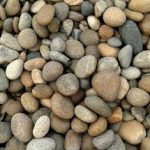 $70.00
River Rock
1"-1.5"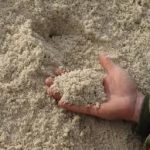 $40.00
Washed Sand
$45.00
Garden Mix Compost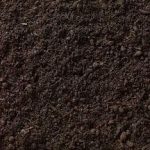 $45.00
Black Dirt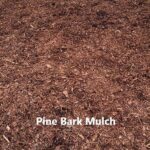 $55.00
Pine Bark Mulch
DELIVERY IS NOT AVAILABLE ON RETAIL PURCHASES
If you require delivery of a retail purchase, please contact the Willow River Company, 850 Kelly Rd, Hudson, Wl at 715-386-3196 directly to purchase and make arrangements for delivery.

Sylvester Custom Grinding: "The difference is our commitment to 100% Customer Satisfaction"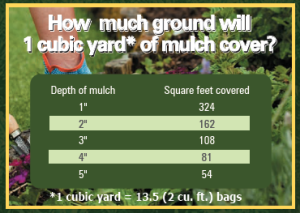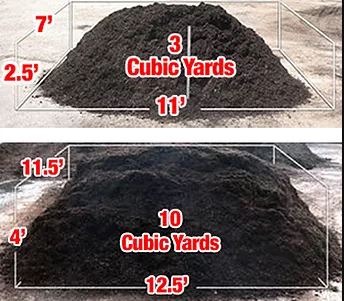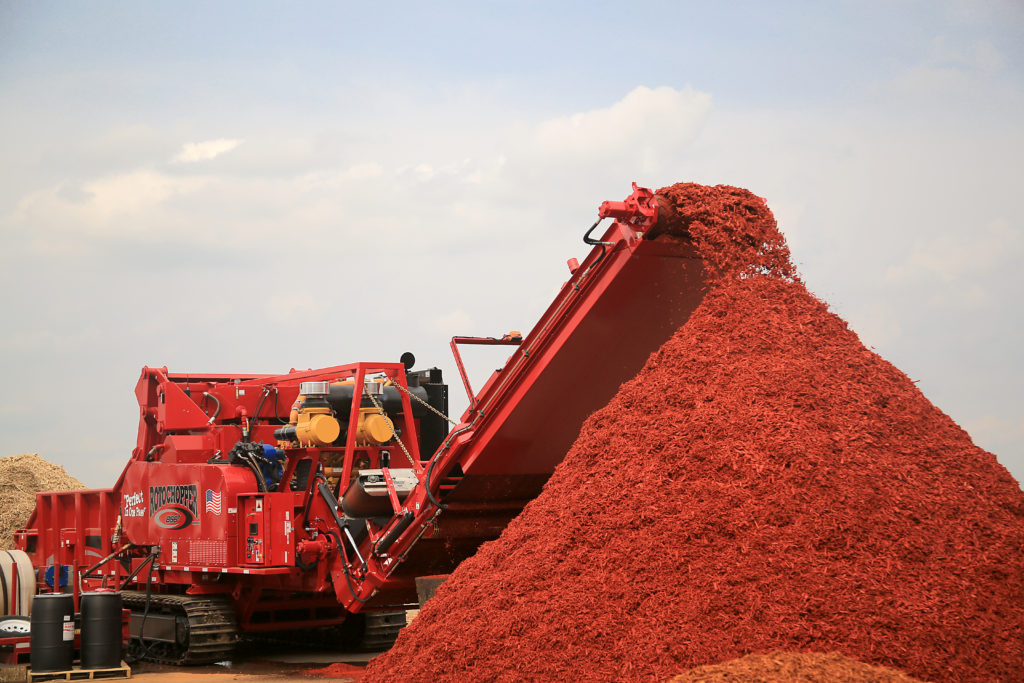 Our Rotochopper coloring Starburst Red Mulch at our Roberts, WI location.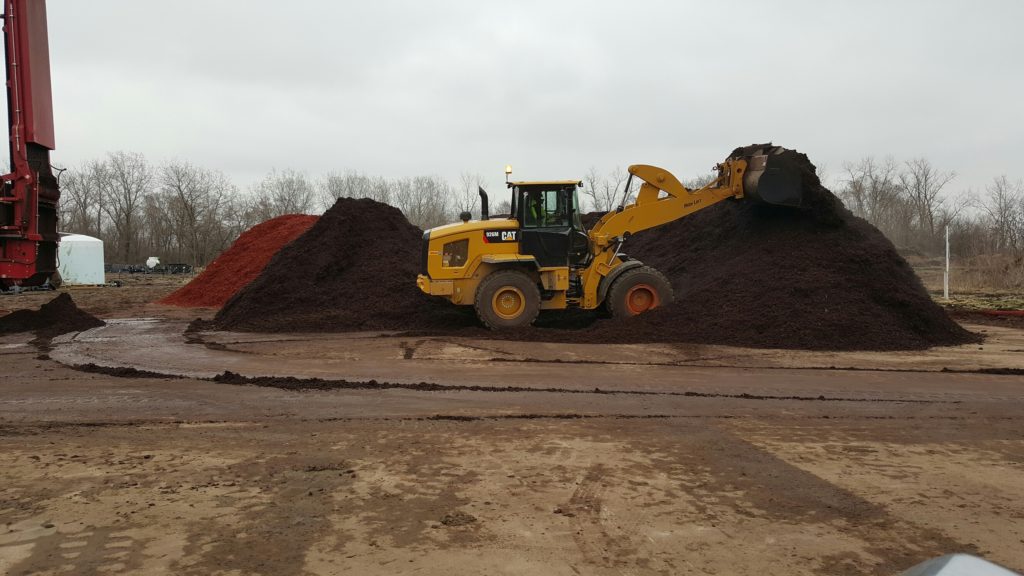 We color all our mulches on a hard permanent service – not on dirt or gravel.